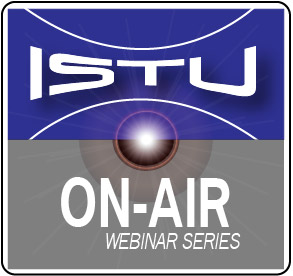 We are excited to continue the ISTU On-Air webinar series in 2022.  These webinars are designed to promote knowledge of Therapeutic Ultrasound and increase discussion among the ISTU community. A committee led by Alfred C. H. Yu, Ph.D. is actively working on the programming for the webinar series.
Our next webinar will be held on July 28 2022. We are excited to welcome our 2019 Lizzi Award Winner, Kevin J. Haworth, PhD, FAIUM, Associate Professor, Director of Data and Analytics, Medical Sciences Baccalaureate Program, University of Cincinnati presenting:
"Making Gas to Remove Gas: Acoustic Droplet Vaporization for Reperfusion Injury"
This webinar will be held live on July 28, 2022 at the following local times:
8:00 - 9:00 PT (West Coast, USA)
11:00 - 12:00 ET (East Coast, USA)
16:00 - 17:00 (UK)
17:00 - 18:00 (Continental Europe)
23:00 - 24:00 (China)
24:00 - 1:00 (Japan and Korea)
Registration for this event is required. The Webinar Series will be recorded and available to members for later review. Confirmation of your registration and the Zoom Conference Link Info will be emailed to all registered attendees prior to the meeting.
2022 Webinar Schedule
February 24/25: "New Generation Nanobubbles: The Smaller the Better?" - Professor Katsuro Tachibana, M.D., Ph.D.
March 24: "MR-guided HIFU - From Preclinical Work to Clinical Trials" - Prof. Dr. rer. nat. Holger Grüll
April 28: "Sonobactericide for Treating Bacterial Infections" - Klazina Kooiman, Ph.D.
May 26: "Dissecting the Brain with Sound and Magnets" - Charles F. Caskey, Ph.D.
July 28: "Making Gas to Remove Gas: Acoustic Droplet Vaporization for Reperfusion Injury" - Kevin J. Haworth, Ph.D.
September 22: Speaker and Topic To Be Announced
October 27: Speaker and Topic To Be Announced
December 1: Speaker and Topic To Be Announced