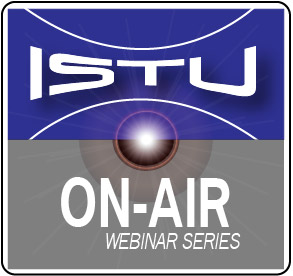 We are excited to continue the ISTU On-Air monthly webinar series in 2021.  These are designed to promote knowledge of Therapeutic Ultrasound and increase discussion among the ISTU community. A committee led by Kim Butts Pauly and Cyril Lafon are actively working on the programming for the webinar series.
Our next webinar of 2021 will be held on April 29, 2021 featuring Professor Jürgen Götz, Ph.D. presenting:
"FUS in Neurodegenerative Disorders"
Professor Jürgen Götz is Foundation Chair of Dementia Research and Director of the Clem Jones Centre for Ageing Dementia Research at the Queensland Brain Institute (University of Queensland). He performed undergraduate studies at the Biocenter of the University of Basel, before joining the laboratory of Nobel Laureate Georges Köhler to obtain his PhD degree in immunology. Subsequently, he took up postdoctoral positions at UCSF (San Francisco) and Sandoz Ltd (now Novartis, Basel), and worked as Research Group Leader (venia legendi, Dr. habil.) at the University of Zurich (Switzerland). Before taking up his current position, Götz was a Professor and Chair of Molecular Biology at the University of Sydney. Götz is an expert in basic research in Alzheimer's disease (AD), focusing on the cellular and molecular mechanisms of how tau and Aβ cause neurodegeneration, using transgenic and cellular models (>200 publications, including in leading journals such as Science, Cell and Neuron (h-index 72, Google Scholar). More recently, Götz developed a non-pharmacological ultrasound-based treatment strategy that removes toxic Aβ and tau in mice and restores memory functions, presenting ultrasound as a novel treatment modality for diseases of the brain.
This webinar will be held live on April 29, 2021 at the following local times:
8:00 - 9:00 PT (West Coast, USA)
11:00 - 12:00 ET (East Coast, USA)
16:00 - 17:00 (UK)
17:00 - 18:00 (Continental Europe)
23:00 - 24:00 (China)
24:00 - 1:00 (Japan and Korea)
Registration for this event is required. The Webinar Series will be recorded and available to members for later review. Confirmation of your registration and the Zoom Conference Link Info will be emailed to all registered attendees prior to the meeting.
2021 ISTU On-Air Webinar Series Schedule
January 21: From biology to bytes: Predicting the path of ultrasound waves through the human brain - Bradley Treeby
February 25: Bubbles, Targeted, Droplets, Science Behind the Agents - Eleanor Stride, Ph.D.
March 25: Bioeffects of Ultrasound - Tatiana Khokhlova, Ph.D.
April 29: FUS in Neurodegenerative Disorders - Jürgen Götz, Ph.D.
May 27: To Be Announced
June 24: To Be Announced
July 22: Focused Ultrasound in the Brain: Clinical Applications and Technical Challenges in Japan - Toshio Yamaguchi
We want to extend our gratitude to our Industry Partners for their support of our 2021 ISTU On-Air Webinar Series.
Please visit their online exhibit booths to learn more about their products.