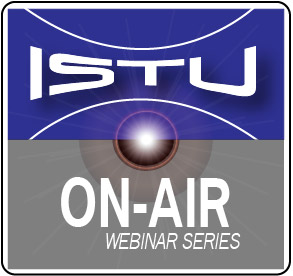 We are excited to introduce ISTU On-Air — a new series of monthly webinars designed to promote knowledge of Therapeutic Ultrasound and increase discussion among the ISTU community. A committee led by Kim Butts Pauly and Cyril Lafon are actively working on the programming for the webinar series.
Our next webinar will feature Wynn Legon, Ph.D. from the University of Virginia presenting:
"Human Applications of Low-Intensity Focused Ultrasound in Neuromodulation"
This webinar will be held live on October 22, 2020 at the following local times:
8:00 - 9:00 PT (West Coast, USA)
11:00 - 12:00 ET (East Coast, USA)
16:00 - 17:00 (UK)
17:00 - 18:00 (Continental Europe)
23:00 - 24:00 (China)
24:00 - 1:00 (Japan and Korea)
Registration for this event is required. The Webinar Series will be recorded and available to members for later review. Confirmation of your registration and the Zoom Conference Link Info will be emailed to all registered attendees prior to the meeting.
Dr. Legon's research is focused on exploring how ultrasound can be used as a non-invasive method to modulate cortical and sub-cortical excitability in the human brain. He employs various methods to non-invasively monitor brain activity in response to ultrasound including EEG, EMG, fMRI and TMS. In addition, his team also tests the effect of ultrasound to cortical and sub-cortical areas on behavior. The lab also fabricates transducers and conducts empirical acoustic testing and computer modelling of acoustic wave propagation to better understand the energy and location of ultrasound effects. Dr. Legon looks to adapt and optimize focused ultrasound for non-invasive human brain mapping with eventual translation to clinical populations for both diagnostic and therapeutic applications.
The lab also conducts basic ultrasound neuromodulation research in small and large animal preparations exploring optimal parameters and safety for efficacious modulation.
This session will be jointly moderated by Pierre Pouget and Jérôme Sallet. Pierre Pouget is a biomedical expert in Neuroscience and Cognitive Psychology at CNRS. Jérôme Sallet is a Research Fellow in the Department of Experimental Psychology and the Centre for Functional MRI of the Brain at Oxford University.
ISTU would like to extend our gratitude to Sonic Concepts, our Industry Partner, for their support of this Webinar. Visit their website to learn more.

Mark your calendars now for our last ISTU On-Air session of 2020:
December 10: Gail ter Haar — History of Focused Ultrasound