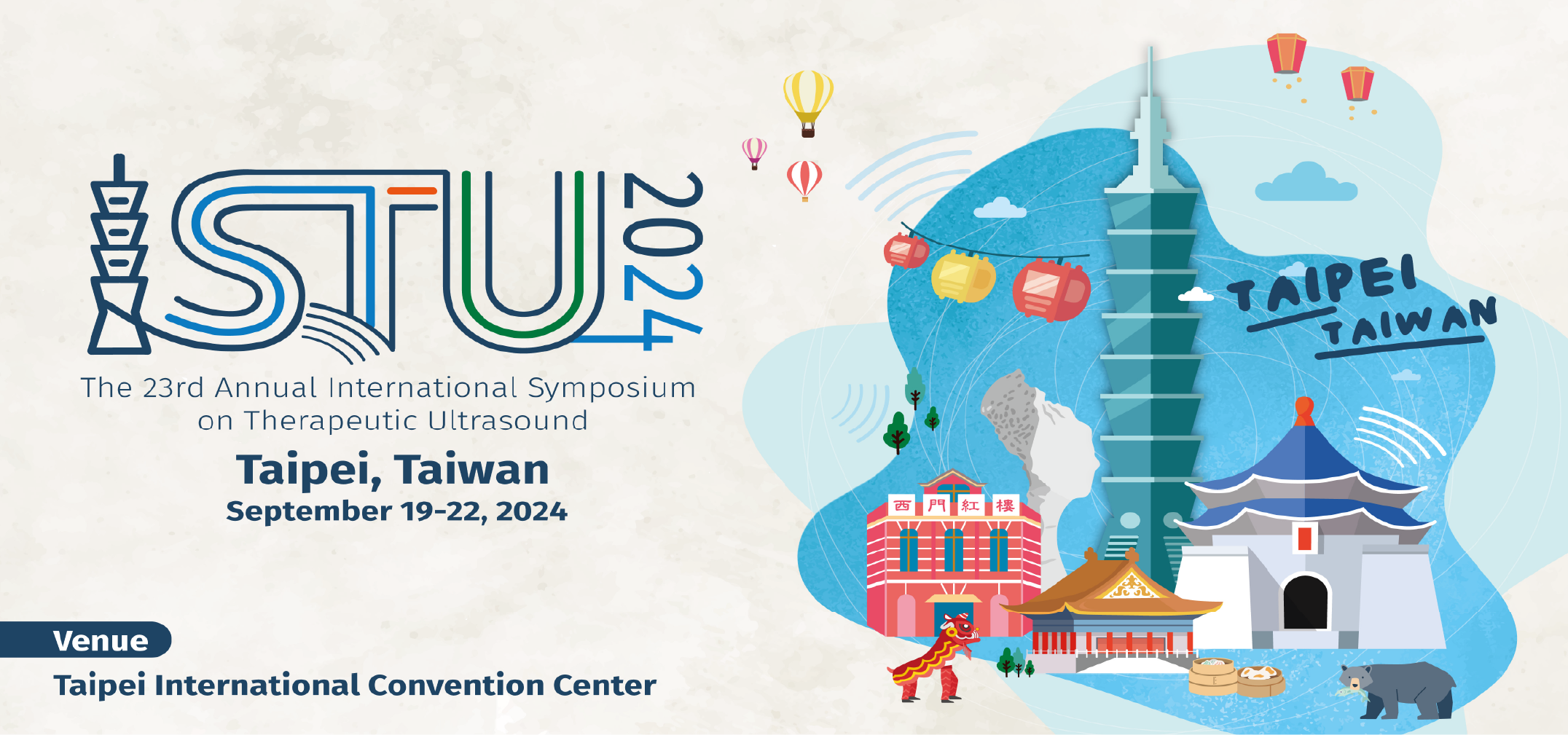 Save the Dates!  ISTU 2024 will take place in Taipei, Taiwan from September 19-22, 2024.
Don't miss the opportunity to share your latest advancements in therapeutic ultrasound! Join scientists, engineers, clinicians and industry from around the world to gather together in lively Taipei, Taiwan for the 23rd Annual International Symposium on Therapeutic Ultrasound. The capital city is the economic, political, and cultural center of Taiwan. Experience both a modern cosmopolitan city with a world-class restaurants, plus the history of veiled temples dating back to dynastic times. Enjoy the blend of urban night markets and beautiful natural delights to explore!
The Annual Symposium will be held at the Taipei International Convention Center, right in the heart of Taipei, from 19 September to 22 September 2024. The meeting will offer both virtual access and in-person attendance options.
Key Dates
March 1, 2024:      Registration and Abstracts Systems Open
May 1, 2024:         Abstract (Oral and Posters) Submissions Due Date (This is also the deadline to be considered for Student Registration Awards.)
May 31, 2024:       Regular Abstract Acceptance Notice & Student Registration Award Notifications
June 1, 2024:         Late-Breaking Abstracts (Posters Only) Submissions System Opens
July 1, 2024:          Deadline for Early Registration
July 1, 2024:          Late-Breaking Abstracts (Posters Only) Submissions Due Date
July 15, 2024:        Late Breaking-Abstract Acceptance Notice
We are excited to continue ISTU On-Air - our virtual webinar series designed to promote knowledge of Therapeutic Ultrasound and increase discussion among the ISTU community.
The International Society for Therapeutic Ultrasound (ISTU) is a non-profit organization founded in 2001 to increase and diffuse knowledge of therapeutic ultrasound to the scientific and medical community, and to facilitate the translation of therapeutic ultrasound techniques into the clinical area for the benefit of patients worldwide.