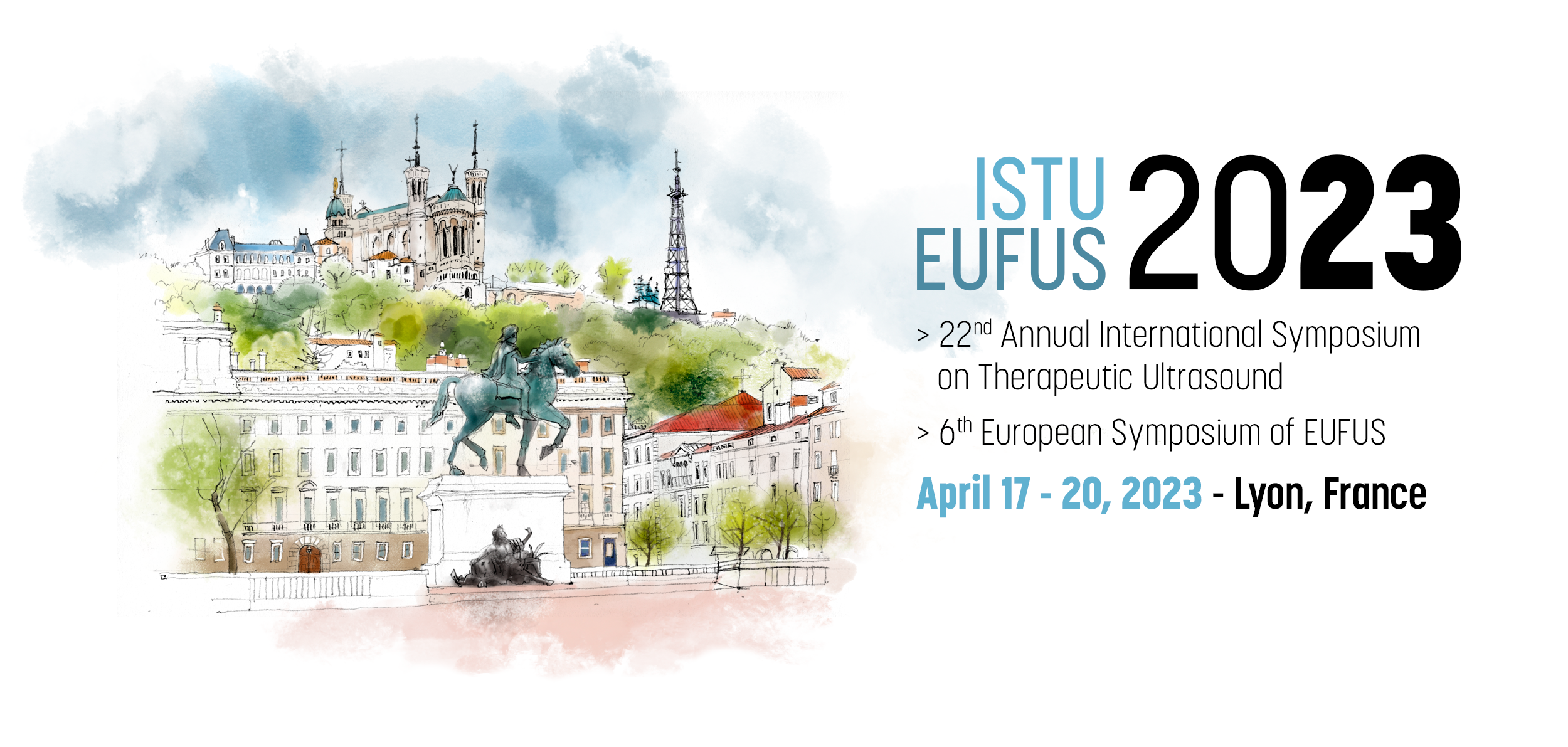 We were thrilled to gather with scientists, engineers, clinicians and industry from around the world as we came together in Lyon, France for the second joint meeting of the International Society for Therapeutic Ultrasound (ISTU) and the European Focused Ultrasound Charitable Society (EUFUS).
The 22nd Annual International Symposium on Therapeutic Ultrasound was held at the Palais de la Bourse, a listed historical monument right in the heart of Lyon, from 17th April to 20th April 2023.
The hybrid meeting offered both virtual and in-person attendance for local participants and many from around the world that will attend in person. We welcomed over 500 researchers and industry professionals from all over the world!
The Symposium featured 260 abstracts, 50 late-breaking research updates, and 193 posters.
All presentations and select session recordings are available on the meeting website until October 21, 2023.
Lyon is a French and European hub for technological and clinical innovation, as well as a renowned cultural and culinary destination. As the second city in France for international association meetings according to the 2019 ICCA rankings, Lyon has a great deal to offer: a central location in Europe combined with good access, excellent reception facilities and the charm of a 2,000-year-old city which is a UNESCO World Heritage Site and two rivers which cross it.
It's not just a gastronomic capital with 17 starred chefs, it's also a creative city in the fields of fashion, the arts and culture. In December 2021, Greater Lyon has been awarded the title of 'World's Tourism Leading Emerging Destination' and '2nd best European city destination in 2021' by the World Travel Awards (WTA).
Finally, in terms of sustainable tourism, Lyon is the leading French city and the 7th worldwide city in the GDS-Index (Global Destination Sustainability Index) for the year 2021.
Four days where science will be at the center of debates and where every attendee will have the chance to share their most recent results.
The 2nd HIFUture Symposium was held on April 21, 2023, following the ISTU/EUFUS 2023 International Symposium.
The symposium program will include presentations in various specialties from clinical and academic leaders, including :
Interventional Radiology : Pr. Laurent MILOT (HEH, Lyon, France)
Interventional Radiology : Pr. Afshin GANGI (CHRU, Strasbourg, France)
Neurology : Pr. Alexandre CARPENTIER (APHP, Paris, France)
Neurology : Pr. Nir LIPSMAN (Sunnybrook, Toronto, Canada)
Digestive Surgery : Pr. Joan VIDAL-JOVE (Khuab Institut, Barcelona, Spain)
Gynecology : Pr. Christopher LEES (Imperial College, London, UK)
Gynecology : Dr. Charles-André PHILIP (HEH, Lyon, France)
Cardiology : Pr. Emmanuel MESSAS (APHP, Paris, France)
HIFUture registrations are now only available for Virtual Attendance (In-Person Attendance: Sold Out). Registration for Virtual Attendance for this event is open through the Annual Symposium Registration System.
Quick Links to Learn More About the Symposium
We will be hosting the educational symposium at the Palais de la Bourse, a listed historical monument right in the heart of Lyon.
We've connected with Hopscotch Housing to bring attendees a variety of lodging selections that are close to the symposium venues.
Don't miss the Welcome Reception generously offered by the FUS Foundation on the evening of Tuesday, April 18th.
This year's Gala Event will take place on the evening of Wednesday, April 19th. Please join in the celebration at a beautiful historic location on the water while enjoying local food specialties and wine.
Stay informed about travel requirements to minimize delays and stress while travelling to Lyon from within France or abroad.
Since 14 March 2022, the "vaccine pass" has been lifted in France in all areas where it was previously required (cultural and leisure venues, commercial catering, professional trade shows, etc.). Similarly, the COVID certificate is no longer required as of 1 August 2022.
Lyon has always been at the crossroads of European trade and is a passionate city which is a meeting place, and is both welcoming and open to the world. The city's unique architectural heritage (listed as a UNESCO World Heritage site), it's reputation as the international capital of gastronomy, but also it's cultural vibrancy and the audaciousness of it's new urban developments, from the Confluence district to the banks of the Saône, now make it one of Europe's most prized and "trendy" city tourism destinations.
2023 Pricing
Beginning April 3rd, full refunds will no longer be available if you cancel your registration. In-Person Registrations will still be able to be converted to Virtual Registrations, with appropriate refunds issued.  There will be no refunds for any Virtual Registrations. Beginning April 7th, there will be no refunds for any registration types.
 

Early Registration Deadline

Late Registration Begins

1-Feb-23

2-Feb-23

In-Person
Regular Attendee

650 USD

750 USD

ISTU Member Attendee

500 USD

600 USD

Student Attendee* (Includes Free Annual ISTU Membership)

350 USD

450 USD

Gala Dinner

75 USD

Virtual
Regular Attendee

400 USD

400 USD

ISTU Member Attendee

300 USD

300 USD

Student Attendee* (Includes Free Annual ISTU Membership)

200 USD

200 USD

Membership Only
Regular Membership

250 USD

Student Membership

50 USD
*To be considered a Student Attendee at the event, people need to be active graduate students or to have completed their degree within one year of the conference date. If fellows/post-docs fall into that timeframe for degree completion, then they can register at the Student Attendee rate.
Sponsor and Exhibitor Info
The Annual Symposium offers a unique opportunity to reach a wide range of attendees from across multiple sectors of the therapeutic ultrasound. We are so grateful for our sponsors support, as we simply could not host this meeting without their generous support!